Dallas Car Accident Attorney
If you have been injured in a car accident in Dallas, contact The Benton Law Firm for legal help. Many victims of car accidents have the right to demand compensation for their injuries, their lost income, and other damages directly related to the accident. Texas has one of the worst records in the country for car accidents. Many vehicle crashes occur each day throughout the Dallas area. If you are among the many unlucky citizens involved in a car accident, you should contact an experienced car accident lawyer to find out more about your potential to file a successful claim against those who have harmed you. Call the experienced Dallas car accident lawyers from The Benton Law Firm at (214) 219-4878 to discuss your options today.
Do I Need a Car Accident Lawyer?
Perhaps the biggest mistakes car accident victims can make after a crash is to try to move on without pursuing a claim, or trying to pursue that claim alone. When struggling with injuries, psychological trauma, and financial difficulties due to medical bills, car damage, and missed work, a person is in no condition to attempt to get justice on their own. Most individuals in Dallas have minimal experience with the legal system. The law around car accident claims is complicated and can be confusing for someone with no prior experience.
There is a lot you will need to do after a car accident, so there is no reason to try to navigate this system alone or to forget about a claim altogether. A car accident lawyer can help you with your case and help you find compensation. They will know how to handle the legal complexities, and they'll be able to organize the required evidence. While an attorney takes care of the legal side of your accident, you can focus on the important task of taking care of yourself.
Need A Car Accident Attorney? Follow These Five Steps
Why Choose The Benton Law Firm to Handle Your Case?
The Dallas car accident legal team at The Benton Law Firm has an outstanding record of holding those who cause serious car accidents accountable. We fight with the legal skill and passionate advocacy necessary for our clients to receive the compensation they need to recover and live fully after the trauma and pain of their car accident.
The Benton Law Firm has built its stellar reputation on our dedication to our clients. Our team has an outstanding record of winning substantial compensation packages because we care about putting together the best case for every one of our clients. Our clients have rewarded us with a Superb rating from Avvo and many grateful testimonials. We have helped many injured Texans get justice for their injuries after a devastating collision, winning millions for our past clients, including nearly $500,000 for an individual injured in a car accident. We are ready to win big money for you as well as soon as you give us a call to schedule a consultation.
Types of Cases We Handle
Car accidents take many different forms. Each car accident is unique in many ways, but they do tend to fit into certain categories. The lawyers at The Benton Law Firm have experience handling every imaginable type of car accident in the Dallas area.
At The Benton Law Firm, our team can help you in a wide variety of circumstances, including cases involving:
Any of these accidents can result in catastrophic injuries that have profound short-term and long-term effects on health, finances, and future prospects. Injuries from car wrecks can be very severe and often include the following:
These injuries often require extensive medical procedures and prolonged hospital stays, all of which can be quite expensive. If your accident was the fault of someone else, you can hold them financially responsible for your costs. Through a lawsuit, you can force them to pay for your medical bills, property damage, lost wages, lost earning capacity, rehabilitation expenses, pain and suffering, and any other related costs.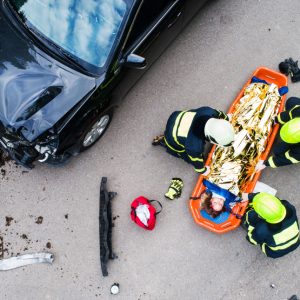 In addition, many people are unfortunately killed in car accidents every year. If your loved one was killed in a car crash caused by someone else's negligence or recklessness, you can pursue a wrongful death claim to win financial compensation from them. This compensation can help pay for your loved one's final expenses, as well as loss of support and companionship. You may also be able to pursue punitive damages to further punish the person who harmed your family and discourage similar behavior in the future.
Common Car Accident Injuries You Might Not Have Noticed
Facts About Texas Car Accidents
Throughout Texas in 2012, there were roughly 63,000 serious crashes in the state, with 87,000 people sustaining severe injuries from these crashes. The majority of collisions occur in urban areas, such as Dallas, but many auto accidents also occur in rural communities. Dallas is a large metroplex that sits in the center of several different highway systems. This influx of drivers and motor vehicles leads to the potential for numerous vehicle collisions.
Large cities such as Dallas, Houston, and Austin have begun no refusal weekends as an effort to combat drunk driving crashes. During these weekends, law enforcement officers can pull over suspected drunk drivers and have a magistrate on speed dial who will approve a warrant for a blood test to test the driver's blood alcohol content level.
In 2012, Dallas had nearly 25,000 reported car accidents, out of which 128 were fatal, and 3,500 resulted in serious injuries. This is no small number, but is yet only a fraction of the over 325,000 car accidents which were reported throughout the entire state. Throughout the whole of Texas, the most common crash contributing factor is speeding, accounting for 23,000 collisions in 2012.
Speeding, driver distraction, failure to drive in a single lane, driving under the influence, and driving under the speed limit are several of the top contributing factors for serious accidents. If a driver participating in any of these factors caused an accident which resulted in injuries to yourself or family members, you are entitled to receive compensation for your injuries.
Contact a Dallas Auto Accident Attorney
Don't just be another statistic. You don't have to face a future of huge bills and lower earning potential because someone else did not behave responsibly on a Dallas road. After a traumatic accident, it's important to get help from a passionate Dallas auto accident attorney like Jeff Benton. Come to The Benton Law Firm to make sure the individuals engaged in dangerous driving are the ones to pay for the suffering you are experiencing right now.
If you or a loved one have been injured in a car accident in the Dallas area, do not hesitate to contact the experienced car accident team at The Benton Law Firm. Our Dallas injury team has years of experience in achieving favorable compensatory settlements for our clients. The negligent driver should be held accountable for your medical expenses, lost wages, and any additional damages you have faced as a result of the car accident. Contact our Dallas offices at (214) 219-4878 today for your initial free consultation.