Dallas-Ft. Worth Nursing Home Psychological and Emotional Abuse Attorneys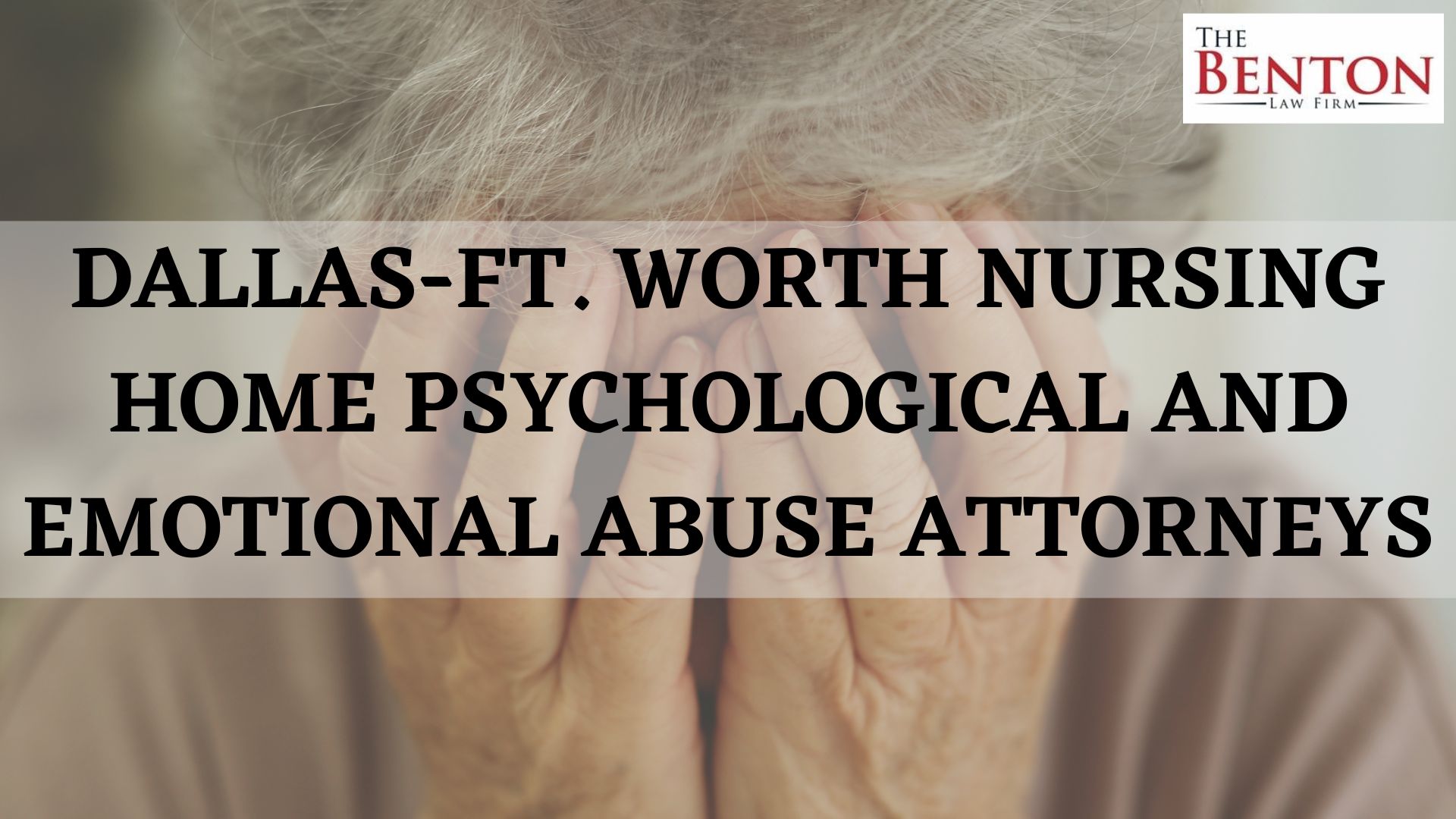 As our older family members age, sometimes our career and life obligations make it impossible to provide the level of care they need and deserve. As a result, many of us trust nursing homes and other long-term care facilities to provide effective and compassionate elder care, allowing our aging loved ones to enjoy their golden years with dignity and comfort.
Every nursing home and elder care facility is responsible for providing its residents with a certain level of care. However, sometimes nursing home administrators and staff members abuse their positions of power, inflicting unthinkable abuse on some of the most vulnerable members of our society. If you fear that a beloved member of your family is being abused psychologically or emotionally while living in a nursing home, you need an experienced nursing home abuse lawyer by your side. With the help of the right attorney, you can fight for your loved one's rights and demand compensation for their suffering.
At The Benton Law Firm, we take pride in the work we do on behalf of nursing home abuse victims. We believe that every person and organization that emotionally or psychologically harmed your family member should be held responsible and made to pay for the damage they have done. For a free discussion of your case with our Dallas-Ft. Worth nursing home abuse attorneys, call us at (214) 777-7777 or fill out our online contact form.
What Is Emotional or Psychological Abuse?
Emotional abuse is any behavior that causes emotional distress or harm, such as verbal abuse, intimidation, or humiliation. On the other hand, psychological abuse involves any behavior that causes psychological damage, such as manipulation, isolation, or gaslighting.
Both emotional and psychological abuse can have devastating effects, but psychological abuse can be more subtle and insidious because it might involve the abuser making a resident doubt their own perceptions of reality. These types of abuse are difficult to identify because they do not leave physical scars or evidence, even though they pose serious long-term risks to a victim's mental health.
Some possible examples of emotional and psychological abuse in nursing homes include:
Screaming and yelling
Verbal and nonverbal threats
Humiliation and shaming
Gaslighting and other manipulation tactics
Isolation from family, friends, or other residents
Limiting social outings and opportunities
Lying or withholding information
Intentionally causing sadness or depression
The U.S. Department of Justice found that more than 10 percent of Americans aged 65 and older experience some form of elder abuse in any given year. Among reported cases of elder abuse, psychological abuse was among the most common types of abuse.
Who Perpetrates Nursing Home Abuse?
The Centers for Disease Control and Prevention (CDC) has identified certain factors that increase the likelihood of nursing home staff members abusing their residents. They include:
A current diagnosis of a mental or physical health condition
A history of substance abuse
A history of abuse as a child or young adult
Specific stressors related or unrelated to their jobs
Inadequate job training
Social isolation
While anyone, family members included, can perpetrate abuse against older adults, the prolonged contact that nursing home staff members and caregivers have with elderly residents means they have more opportunities to do so.
What Are the Dangers of Emotional and Psychological Abuse?
Emotional and psychological abuse can have serious and long-lasting effects on a person's mental health and overall well-being. Victims of emotional abuse commonly experience anxiety, depression, low self-esteem, and post-traumatic stress disorder (PTSD). Psychological abuse can lead to a sense of helplessness, confusion, and even a loss of personal identity.
These forms of abuse are particularly harmful to vulnerable individuals, such as older adults, who often already struggle with physical health issues. Even worse, emotional and psychological abuse can impact relationships with family and friends, making it harder for victims to trust others or report the abuse.
What Are the Symptoms of Emotional and Psychological Abuse?
Identifying emotional or psychological abuse is challenging because their symptoms are similar to those of many common mental conditions that could arise in the absence of abuse. The most common symptoms of emotional and psychological abuse in nursing home residents include:
Depression
Mood swings and tantrums
Lack of appetite or refusing to eat
Refusing to take medication
Unexplained anger
Fear and anxiety
Shutting themselves off from their surroundings
Becoming nonverbal
Chronic stress
Trouble sleeping and insomnia
I Suspect My Family Member Is Being Abused. What Can I Do?
Many elderly abuse victims have a tough time coming out and seeking help from their friends or family members. Memory issues, intense psychological distress, or the fear instilled in them by the abuser might keep them silent, even if they have ways to contact loved ones.
If you suspect that nursing home abuse is occurring, it is essential to err on the side of caution. The Texas Health and Human Services Commission website provides an online complaint portal for reporting suspected instances of abuse and neglect. You can contact them at any time of the day to speak with an agent or leave a message.
Furthermore, you should contact a local nursing home abuse attorney to discuss your options and start the investigation process. Attorneys with experience helping abused senior citizens know how to identify and preserve valuable evidence before abusive individuals or facilities sweep it under the rug.
Contact a Dallas Emotional and Psychological Abuse Attorney Today
If you suspect your loved one is being mistreated in a Dallas-Ft. Worth nursing home, the team at The Benton Law Firm is here to help you demand accountability for the emotional or psychological abuse they have endured. Contact us today to schedule a free consultation. We'll discuss your situation and the potential ways we can help you and your loved one recover from the harm they've suffered.
You can reach us at (214) 777-7777 or by filling out our website contact form. Don't wait to take action. Your loved one deserves justice and peace of mind.