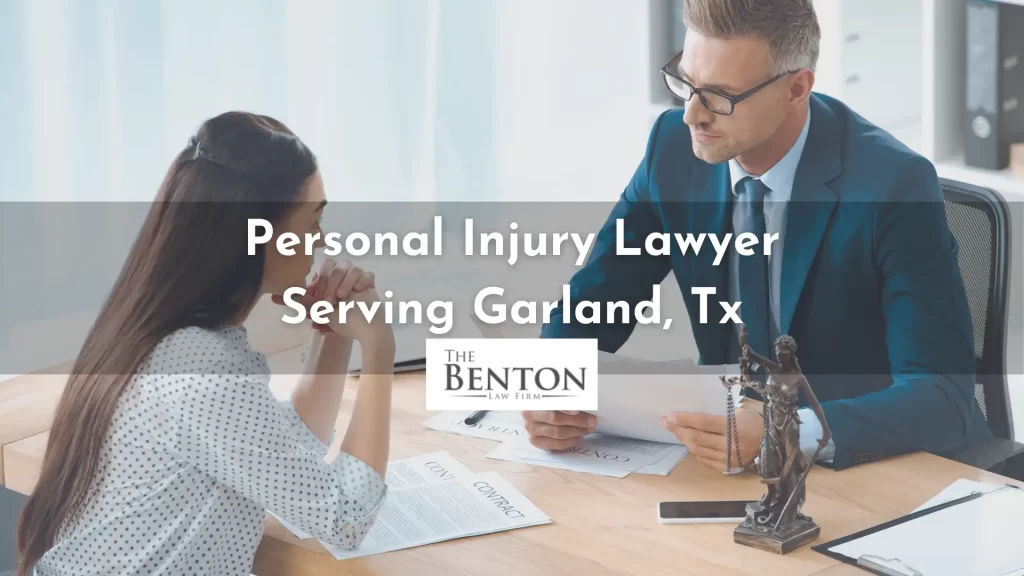 Located just northeast of Dallas, bustling and growing Garland, Texas, is part of the Dallas-Fort Worth metropolitan area. The city spans three counties and has a population of over 200,000. After an accident that was not your fault, you need a Garland personal injury lawyer who is not afraid to fight for your rights to the compensation you're owed.
The Garland personal injury attorneys of The Benton Law Firm have spent their careers helping people across Texas. We understand the stress and financial burden that happens after accident-related injuries.
We want you to know that you are not alone. Our legal team works hard to ensure you have the highest representation possible to fight for your right to fair compensation. Accidents come in all shapes and sizes and can lead to devastating injuries.
When you choose The Benton Law Firm, you can be assured that your personal injury claim is in good hands. With the help of our legal team, you can focus on recovering from your injuries while we fight to hold the at-fault party accountable.
During your free case evaluation, one of our experienced attorneys will review the details of your case and answer your questions so you understand the steps you must take to move forward.
Call the Garland personal injury attorneys of The Benton Law Firm today at (214) 777-7777, or contact us online to schedule your free case evaluation.
How Can a Personal Injury Attorney Help?
Accident-related injuries can be overwhelming. You are suddenly faced with mounting medical bills, lost wages, and filing the necessary paperwork to seek reimbursement. You may be confused and angry as you're struggling with unfamiliar processes with insurance companies.
If the accident was not your fault, you might be entitled to compensation to help cover some of your costs. We understand that no money could compensate for your injuries, but compensation can pay medical bills and compensate for lost wages.
After an accident that someone else caused, the at-fault party's insurance company may send an insurance adjuster to talk with you. Their job is to gather evidence that disproves your claim. It is in your best interest not to speak to an adjuster until you have legal representation present.
Your Garland personal injury attorney can help you with your insurance claim and prevent you from inadvertently saying something negatively affecting your case. Insurance companies have experienced attorneys and skilled adjusters working for them. You should, too.
Types of Cases Our Garland Personal Injury Lawyers Handle
Our legal team has experience handling a wide variety of cases. You need an experienced attorney in the kind of accident you had. Understanding the nuances and case law that pertain to your particular type of accident is critical while your lawyer is negotiating with insurance companies or presenting your case before the court. The following are just some of the types of cases our legal team has experience with:
Accidents can result in several types of injury. In addition to those listed above, you may experience other physical, mental, emotional, or psychological injuries after a traumatic event. Although many are immediately obvious after the accident, others can take hours or weeks to present symptoms.
You must receive immediate medical attention to document your injuries and demonstrate your interest in maintaining good health. Other types of injuries that can occur include:
Heart attack
Catastrophic injuries
Kidney damage
Nerve damage
In addition to these types of personal injury cases, our legal team also has considerable experience in commercial litigation and false imprisonment. If you are unsure whether your case fits into one of the categories listed, call our office at (214) 777-7777. We will discuss the details of your case and walk you through your legal options.
How Much Time Do I Have to File a Lawsuit?
In every state, there is a limited amount of time to file a personal injury lawsuit. The statute of limitations dictates that time limit. In Texas, you have two years from the accident that caused your injuries to file a personal injury lawsuit. If you don't file your lawsuit within two years, you may relinquish your right to seek justice and compensation through the court system.
Why Choose The Benton Law Firm?
Not all attorneys have the same experience or the same skill. When your livelihood and financial future are on the line, you need to know that the attorney working for you is someone you can trust. We believe that our case results and testimonials speak for themselves.
Over the years, we have won millions in compensation for our clients. We believe that everyone deserves a chance to be heard. Our firm is more than just a team of lawyers. We work together as a family dedicated to representing our clients and fighting to get you the compensation you deserve.
How Much Is My Case Worth?
Every case is unique. The settlement you may receive often depends on the circumstances surrounding the accident. An experienced Garland personal injury attorney can review the particulars of your case and help give you an accurate picture of its value.
How Much Will I Have to Pay The Benton Law Firm?
We believe that our clients deserve experienced, high-quality legal representation. Our firm recognizes that legal counsel can be expensive, so we never charge our personal injury clients a fee for our legal services upfront.
We start your case with a free consultation, and you only pay if we successfully recover your compensation. If we negotiate a settlement with the insurance company or win your personal injury lawsuit, we are paid a portion of your damages that we agree upon upfront.
If we lose, you won't owe us anything.
Contact a Garland Personal Injury Lawyer Today
If you are injured in an accident that was not your fault, you may be overwhelmed with uncertainty and questions. The legal team at The Benton Law Firm wants you to know that you do not have to face this alone. We have the experience, skill, and resources to fight for your right to fair compensation.
To set up your free evaluation, call us at (214) 777-7777 or contact us online today.