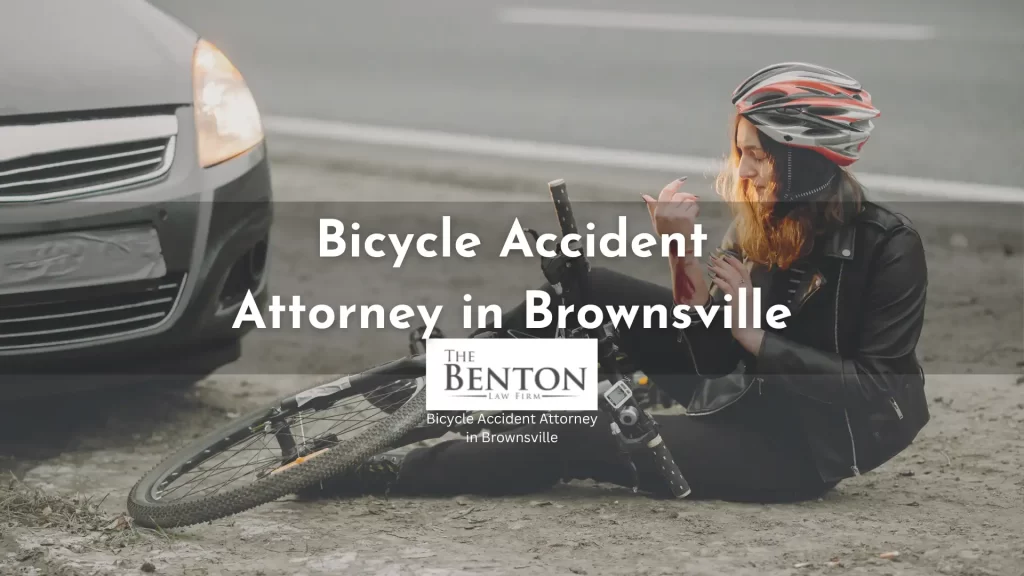 Have you been hurt in a bike accident in Brownsville? If so, the Brownsville bicycle accident lawyers of The Benton Law Firm are ready to help you. We have secured millions of dollars in settlements and verdicts for our clients, and we are prepared to put our skills to work for you.
Brownsville has always been a bustling, vibrant, and growing border city in the Rio Grande Valley. With its ever-increasing population size, however, comes more cars, trucks, pedestrians, and cyclists. Though car-on-car accidents are common, car-on-bicycle accidents are becoming a growing concern in Brownsville. The increase in the number of bicyclists is due to population density growth, adoption of healthier lifestyle habits, and an increasingly positive attitude toward greener transportation; unfortunately, many reckless and negligent drivers do not give cyclists the respect and consideration that they deserve.
If you have been hit by a car while riding your bicycle, call The Benton Law Firm at (956) 230-6390 today to talk about your case. The initial consultation is free, and an experienced member of our time is waiting to help you understand what your rights and legal options are in your bicycle accident case.
Why Choose The Benton Law Firm
Injuries resulting from a driver hitting a cyclist are often serious and permanent. When this is the case, you and how you decide to handle your case at the onset of the accident will determine who pays for the lifelong damage and care. Trying to handle your own case or settling for whatever offer the insurance company gives you is almost guaranteed to end with you not receiving what you are owed by the other party.
Contacting a knowledgeable Brownsville personal injury attorney from The Benton Law Firm right after the accident will afford you the peace of mind and legal experience necessary to get you the results you deserve. Only an attorney can adequately assess your case, apply the facts to the law, and navigate the mess of medical bill and insurance negotiations to ensure that you are not bilked out of what you are legally entitled to be awarded.
Common Bicycle Accident Injuries
If you have been hit by a car while on your bicycle, then you are likely dealing with some severe injuries that are readily apparent. But did you know that the injuries may get worse over time, or that additional injuries may be diagnosed weeks after the accident has occurred? Some typical, compensable cyclist injuries after a collision with a car may include some of the following:
Head trauma: One of the most common (and long-lasting) injuries seen in accidents involving cyclists and cars is head trauma. Ranging from a concussion to a traumatic brain injury, head trauma injuries can seriously affect cognition, motor skills, development, and general well-being. Symptoms of this kind of injury can manifest physically through swelling and bleeding, but the observable symptoms may also present in more subtle ways, such as mood fluctuations, confusion, visual issues, slurred speech, etc. While some head trauma may be diagnosed right away, it is important to keep a keen eye on any mental or cognitive changes after an accident and to follow up with doctors about any changes. Some head trauma injuries may not be diagnosable until weeks after an accident.
Paralysis: Depending on how a cyclist is hit, paralysis may occur. This severe and life-altering consequence of an accident with a car often warrants compensation and award of care expenditures by insurance companies. If you have been paralyzed in a bicycle accident and an insurance company is lowballing you or only offering coverage for a portion of your damages related to paralysis, contact our office at (956) 230-6390 to discuss your situation and what you may be entitled to recover.
Lacerations: Whether minor or severe, lacerations can require medical treatment like stitches, wound dressing, and infection control (antibiotics) to ensure proper healing. These measures are costly, and a perfect example of treatments insurance companies of a negligent driver are supposed to cover.
Internal organ damage: Depending on how one has been hit by a car, internal organ damage may occur. While there is sometimes a delay in diagnosis, this kind of damage is costly and can require a lifetime of treatment. Before agreeing to a settlement that only accounts for current treatments, speak with an attorney about long-term goals and treatment plans because such costs may be awarded to you in court or agreed to in a settlement.
Broken bones: A common injury associated with a cyclist being hit by a car is broken bones. Whether it is a broken arm, broken clavicle, or a broken leg, damages of this sort ought to be compensated by the negligent driver and their insurance company. Any necessary rehabilitation speculated or in-effect, for said injury is also an expenditure that may be compensated by insurance companies.
Psychological effects: Though not always immediately diagnosable or apparent after an accident, psychological injuries may present themselves in the form of phobias, anxiety, post-traumatic stress disorder, and/or depression. Although not a physical injury, this kind of injury may deserve compensation if it was caused by the accident and requires treatment or rehabilitation due to the long-term impact on the quality of life of an injured cyclist.
Although many of these injuries are diagnosable right after the accident, some of them cannot be observed until time has passed. Staying on top of doctor appointments after an accident is critical to ensure that injuries are not missed. Furthermore, it is imperative to document any delayed damages from an accident by noting changes in your health. Doing this will help you develop the strongest personal injury claim possible and ensure that you obtain the best recovery results from the driver who injured you.
Call Us Today
If you or a loved one has been injured in a bicycle accident, call The Benton Law Firm at (956) 230-6390 to schedule a free consultation with one of our experienced Brownsville personal injury attorneys. At The Benton Law Firm, we know the nuances of personal injury law and will aggressively seek full and fair compensation for your injuries. Whether your injuries are severe or minor, and regardless of if your case goes to court or is settled, we will work to get you the best results possible for your situation. We know how to identify damages and the remedy you seek and deserve for your bicycle accident-related injuries. Call us today at (956) 230-6390 to start your claim today.