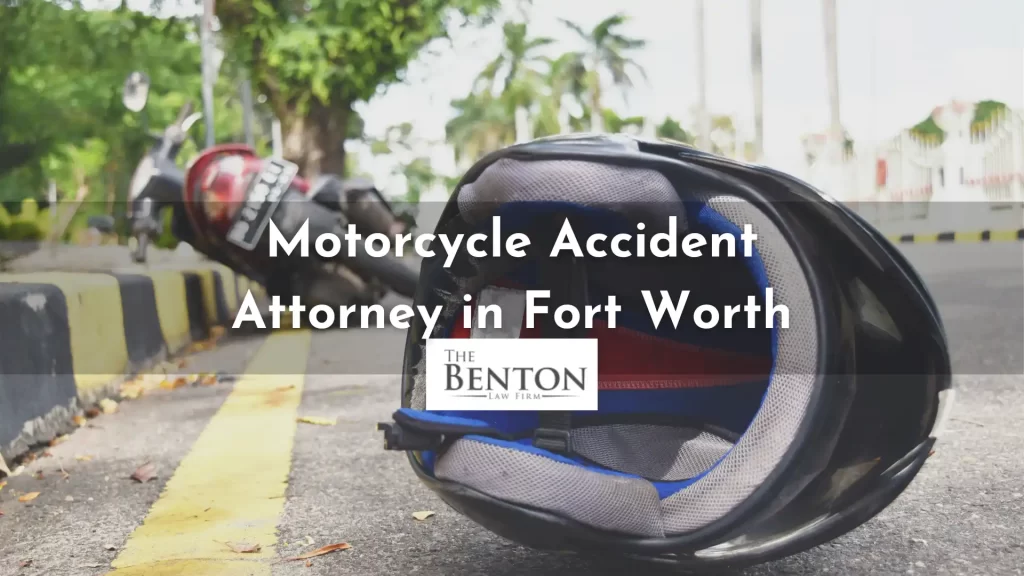 Being injured while riding a motorcycle accident is almost always a serious case and may require the help of an experienced Fort Worth motorcycle accident attorney. Depending on the circumstances of the incident, you may be entitled to some degree of financial compensation for your medical bills, pain and suffering, and other losses. When you are hurt because of someone else's reckless driving on the road, they should be held accountable. Despite countless awareness campaigns, other vehicles can ignore the motorcyclists they share the road with. People can get seriously hurt when cars participate in this negligent behavior.
At The Benton Law Firm, we believe that nobody should have to pay for someone else's reckless actions. People should answer for the consequences they have created, and it's more than just morally right—it's the law. We have won millions of dollars in compensation for our clients and stand by our work. Our legal team is spearheaded by Attorney Jeff Benton, who has numerous awards. Mr. Benton has also ensured that his team of lawyers has the experience and expertise to represent the innocent people of the Dallas-Fort Worth area.
We understand how devastating a motorcycle accident can be. There is often a long recovery time and frequent hospital visits, resulting in costly bills. Nobody should ever have to pay for an accident they were not at fault for, so if you or someone you know has been recently involved in an accident, call a Fort Worth motorcycle accident lawyer. Don't go into debt just trying to get your life back together after someone else's mistake. Contact us at (817) 935-8000, and our team can start working for you today. The best part is there is no fee unless we win your case.
Do I Need A Fort Worth Motorcycle Accident Attorney?
After an accident, there are a lot of uncertainties that need to be ironed out. Medical bills need to be paid for, an insurance company to negotiate with, and sometimes severe injuries to recover from. Trying to get these issues squared away can be a tough juggling act. Having an attorney working for you streamlines the entire process and puts the odds of getting the compensation you deserve in your favor.
As the injured party in an accident, undoubtedly, more financial burdens are thrust upon you after an accident. You could still pursue partial compensation even if the accident were partly your fault. Statistically speaking, the best way to maximize your compensation is to hire an attorney. Fighting for what you deserve in the courts, in a suit, or against the insurance company can be a long process over an intense few months. Attorneys handle all the paperwork and messy negotiations during your recovery period to make the process much easier.
Why You Choose The Benton Law Firm After An Accident
You need an attorney you can trust to represent you. The period after an accident is a sensitive time full of important choices, and having the right lawyer can be the difference between a fair settlement and an arduous and expensive recovery process.
The Benton Law Firm is nationally recognized as an outstanding firm. With a "Superb 10.0 Rating" from Avvo and seats on the Multi-Million and Million Dollar Advocates Forum, our firm knows how to win cases both in court and out. Although we also realize that awards and recognition often don't speak as loudly as results do. Here is a brief description of some of the most recent cases our firm has won.
$495,000 was awarded to a woman severely injured in a motor vehicle collision involving a construction vehicle running a red light. With the settlement, she was able to afford her costly neck surgery.
$249,000 to a woman who had shoulder surgery after a motorist struck her. The case was settled after the defendant initially denied involvement in the collision.
$100,000 was awarded to a motorcyclist struck by a car pulling out from a driveway. The cyclist suffered back and neck injuries.
As figures in our community, we want to give back to our friends and neighbors. We have a track record of getting results, and our aggressive representation tactics are excessively successful.
The Most Common Causes of Motorcycle Accidents
Collisions on the road always stem from some negligence on the driver's part. There is a whole host of factors that can lead to an accident. When it comes to motorcycle accidents, we have seen practically every different reason that these horrific events occur. Some of the most common causes that our firm has settled include:
A Car Turning in Front of Your Motorcycle
Unfortunately, this is every motorcyclist's worst nightmare and the most common crash. Cars think motorcycles are shorter than they are and don't realize how fast they can accelerate. Because of this, they'll miscalculate their turning radius and slam into a bike.
In the Blind Spot of the Other Vehicle
Since the size of a motorcycle is smaller than the average vehicle, drivers don't recognize them as often as the other cars. If they're not paying enough attention, they can change into your lane, slam into your bike, or clip one of your two tires.
A Car Rear-Ending Your Bike
What counts as a simple fender bender for an average car collision can knock over and seriously injure a motorcyclist. When coming to a stop, drivers often don't know where the bike stops and where they should stop.
A Parked Car Opened Their Door Suddenly
On dense city streets, a door can reach well into the middle of the other lane when parked on the side of the road. Hitting a door over 30 miles per hour devastates the bike, door, and rider.
The Driver Was Drunk
According to a 1981 study conducted by the United States Department of Transportation called the Hurt Report, about half of all bike-related accidents involved alcohol to some degree.
Unfortunately, there are more reasons for motorcycle accidents than these five. If you have been in a motorcycle accident for any reason, you need an attorney. These crashes always result in injury, and you may be entitled to financial compensation for your pain and suffering.
How Much Could I Be Compensated For My Accident?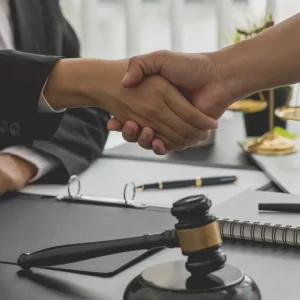 With medical bills and physical therapy demanding payment, knowing there is some way to be reimbursed for these burdens is comforting. Unfortunately, there is no formula or estimating strategy to determine the outcome of every case. The best way to get an estimate is to bring your case to an attorney. Sitting down with a legal profession and sharing the intimate details and circumstances and the extent of the pain and suffering incurred can give you a ballpark estimate of what you could receive and how long your case could take. Since there is no fee unless The Benton Law Firm wins your case, there is no harm in bringing it before a professional.
The Safety Factor of a Helmet in Motorcycle Accidents
Motorcycle accidents are much more dangerous than vehicular collisions. This is partly due to the lack of a protective metal shell that a car tends to provide. To counter this, experts unanimously agree that a helmet should always be worn when riding a motorcycle. In fact, in an annual study on traffic collision statistics put out by the Texas Department of Public Safety, researchers found analytical proof that driving with a helmet is safer.
This means that while there is a minor improvement in the safety rate for drivers wearing a helmet, it is much more dangerous for a passenger to ride a motorcycle without a helmet. Passenger injuries are still considered under the umbrella of motorcycle accidents, and financial compensation may be available for these passengers. Whenever you ride, everyone on the bike should wear a helmet. If you get injured, or a loved one dies on the back of a motorcycle, our firm's mission is to ensure you and your family are taken care of.
Speak With A Fort Worth Motorcycle Accident Attorney Today
After a motorcycle accident, the first step toward recovery should be hiring an attorney. You will have someone working full-time for you, ensuring that you will get the maximum amount of financial compensation entitled to you. Don't let the irresponsible negligence of another driver put you in debt and cast a shadow over your life. Contact a personal injury attorney from The Benton Law Firm today to get started down the path of recovery. There is no fee unless we win your case, so call us today at (817) 935-8000.