Dallas Motorcycle Accident Attorney
Everything is "bigger" in Texas, from the state itself, to the cities, to the massive trucks on the highways every day. The amount of large trucks and other vehicles on the road has a drastic impact on the severity of all accidents in Texas, and most severely, motorcycle accidents. Throughout the Dallas area, these accidents often have severe repercussions as motorcyclists often cannot compete with a raised-up Ford F350 that comes barreling into their lane. If you have been injured on the Dallas roads as the result of a motorcycle accident, do not hesitate to contact our Dallas motorcycle accident attorney at The Benton Law Firm. You can schedule a free consultation by calling us today at (214) 777-7777.
Why Do I Need an Attorney?
A motorcycle accident can leave you with severe injuries, mental anguish, and steep medical bills that accumulate and result in debt. Trying to deal with these hardships while also educating yourself about the law, trying to gather evidence to support your case, and battling against aggressive insurance agents or opposing lawyers can be almost impossible. An attorney experienced in motorcycle accident lawsuits will be able to provide you with peace of mind while they deal with insurance companies and other parties who are trying to avoid liability.
A lawyer can investigate your claim, gather the necessary evidence, interview witnesses and experts, and negotiate with insurance on your behalf while you focus on your recovery. They will be able to anticipate the opposition's arguments and prepare effective counterarguments. With a lawyer, you are far more likely to receive the full amount of compensation that you deserve.
Why Choose The Benton Law Firm?
The attorneys at The Benton Law Firm will listen to your story and provide the compassionate customer service that you need in such a difficult time. We know that personal injury lawsuits can be complex. Our attorneys are here to provide aggressive representation and fight to get you the best possible outcome in your case. We have won millions of dollars for our past clients, giving us membership in the Million Dollar and Multi-Million Dollar Advoctes Forums. We also hold a perfect 10 rating on Avvo, a testament to our success and stellar reputation among clients and peers.
At The Benton Law Firm, our clients come first. We offer a free consultation. This means that we are here to gather your facts and to help you determine the best way to proceed with your case risk-free. We are available 24/7 to answer our clients' questions and to update them on the status of their cases. Additionally, our firm works on a contingency fee basis. You won't owe us anything until we recover compensation for you.
Motorcycle Accidents in Texas
Texas is no stranger to motor vehicle accidents throughout the state, and unfortunately carries the lead throughout the United States in number of motor vehicle accidents and the number of fatalities stemming from motor vehicle accidents. While motorcyclists only make up a fraction of these numbers, motorcyclists are far more likely to be critically injured in an accident, and have a higher possibility of death from their injuries.
Motorcycle fatalities have been on the rise in Texas over the last decade, spurring new public service announcements on highways to "Share the Road" and "Look Twice." Most car and truck drivers do not anticipate a motorcycle on the highway and change lanes if they do not see a larger vehicle in the lane, effectively running directly into a motorcyclist. Texas A&M University's Transportation Institute conducted a study finding that in more than half of all motor vehicle accidents involving a motorcycle, the other driver failed to see the bike. While the number of motorcyclist fatalities decreased in 2012, the number (460) remains high. If you've lost a loved one in a motorcycle crash, our compassionate Dallas motorcycle accident lawyer can help.
Motorcycle Accident Injuries
It is difficult to imagine the scope of motorcycle injuries if you have not been in the place of a motorcyclist. Motorcycle accident injuries are often much more severe than injuries from car accidents because motorcyclists have so little to protect them on roads and highways. With speed limits reaching above 80 mph in some parts of the state, it is frightening to consider what type of damage can occur to a motorcyclist if a car crashes into them at a high rate of speed.
Tips for Your Motorcycle Accident Injury Lawsuit
Injuries resulting from motorcycle accidents can range from minor to severe. However, because of the increased vulnerability to the motorcycle driver, many of the injuries end up being severe and can often result in life-long disabilities. Some common injuries associated with motorcycle accidents include:
Road rash
Facial scarring and disfigurement
Traumatic brain injuries and other injuries to the head
Those that require amputation
Spinal cord injuries
Broken bones and fractures
Partial and full paralysis
Unfortunately, many motorcycle accidents result in death for the motorcyclist. If your loved one has passed away as a result of a motorcycle accident, you may be able to pursue a wrongful death claim.
Passenger Vehicle Fatalities vs Motorcycle Fatalities 1975-2013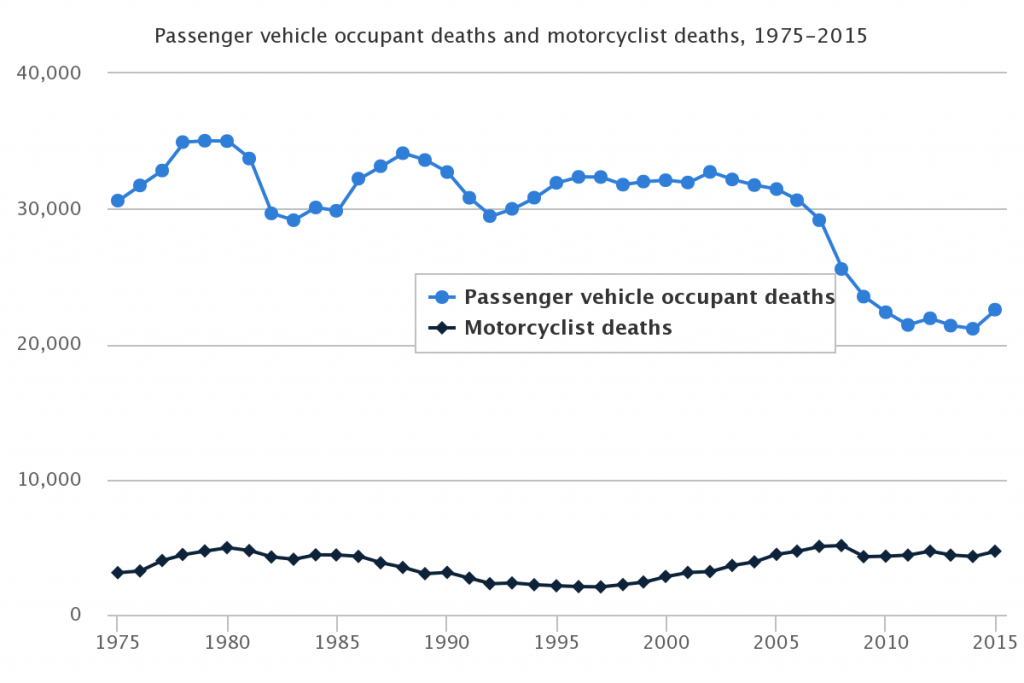 Data from the Insurance Institute for Highway Safety.
Possible Compensation
Being the victim of a motorcycle accident can result in severe losses. The cost of medical treatment can create a mountain of debt, and you may be subject to extreme mental anguish. When you or a loved one has been injured in a motorcycle accident, there are several types of recovery to which you may be entitled. Some of these include:
Cost of current and future medical treatment
Loss of income and wages
Loss of future earning capacity where you are not employable due to some injury or disability
Pain, suffering, and mental anguish
Damage to your property
Loss of support, services, and companionship, especially in the case of the wrongful death of a spouse, parent, or child.
In rare cases, punitive damages may be available. These are intended to punish a defendant for particularly egregious behavior. These damages are most often awarded in cases involving intoxicated drivers.
Comparative Fault
When you bring a claim against a person for their negligence, they might try to reduce or completely avoid liability for the injuries they've caused to you. A defense often used in negligence cases is that of comparative fault. Comparative fault addresses situations where both parties contributed to the accident.
Under comparative fault, your damages could possibly be reduced or even barred entirely depending on the level of fault you are assigned. In Texas, courts apply what is known as "modified comparative fault." Here, you will only recover the amount of damages in proportion to your fault. In other words, if you are found to be 40% at fault for the accident, you will only recover 60% of the damages. This means that if you incurred $100,000 worth of damages, you will only recover $60,000.
Additionally, in a modified comparative fault jurisdiction such as Texas, your ability to recover damages is completely barred if it is found that you, as the plaintiff, are found to be 51% or more at fault for the accident that caused your injuries. Having an attorney is crucial for ensuring you are not assigned more fault than is fair, as this can severely impact your award.
3 Questions Every Texas Motorcyclist Has
Whether you are new to riding or are a seasoned biker, it is always good to refresh yourself on the laws surrounding motorcycles. The Texas legislature frequently changes the specific mandates and requirements surrounding motorbikes and scooters, and it can be difficult to keep track of the current rules. To help make things clear, here are the easy answers to three questions every motorcyclist should know!
Should I wear a helmet?
The best answer to this question is yes, you should wear a helmet anytime you ride. If you have health insurance, the law does not require you to wear a helmet if you are over 21 years of age. Despite the law, the facts are clear—failure to wear a helmet significantly increases your risk of death and serious injury if you are in an accident. At the The Benton Law Firm, we respect individual freedoms and understand it is your choice whether or not you wear protective gear on your bike. However, you are much more likely to survive and have the opportunity to pursue compensation after an accident if you were wearing safety equipment during your accident.
Can I split lanes when I ride?
Despite repeated attempts to make lane splitting legal in Texas, the legislature has yet to decide on this issue. Lane splitting is the practice of moving through traffic and between cars when traffic is especially slow or stopped completely. As noted on the Texas Department of Public Safety website, Texas does not officially deem the practice illegal. However, the law does say drivers "shall drive as nearly practical entirely within a single lane," which makes the practice illegal in effect.
How old does someone have to be to ride as a passenger?
In Texas, motorcycle passengers must be at least 5 years of age. The two exceptions to this law are if the child rides in a sidecar attached to the motorcycle or if the situation is an emergency. Remember, anyone under 21 years of age must wear a helmet while riding as a passenger, and any passenger needs both handholds and footholds to meet legal requisites.
Motorcycles are a popular and exciting mode of transportation. Unfortunately, the thrill of a motorbike comes with a tremendous risk to riders. If you were hurt in a motorcycle accident, the attorneys at the The Benton Law Firm can help you hold other drivers accountable. Contact us at (214) 777-7777 to get started with your case.
Contact a Dallas Motorcycle Accident Attorney
A motorcycle accident can take a devastating toll on your life and the lives of your loved ones. If you or a loved one have been injured in a motorcycle collision, do not hesitate to contact the experienced attorneys of the Benton Law Firm. Our Dallas personal injury attorneys are well aware of how dangerous Dallas highways can become for motorcyclists and work tirelessly to ensure that your injuries are compensated for. We understand the hardship that accompanies an accident, and work to make your life easier during such a difficult time.
Our attorney have years of experience in handling vehicle accident injuries and have recovered millions of dollars in compensation for our clients. Contact our offices today at (214) 777-7777 for your initial free consultation or click here to learn more about the practice areas covered by The Benton Law Firm.