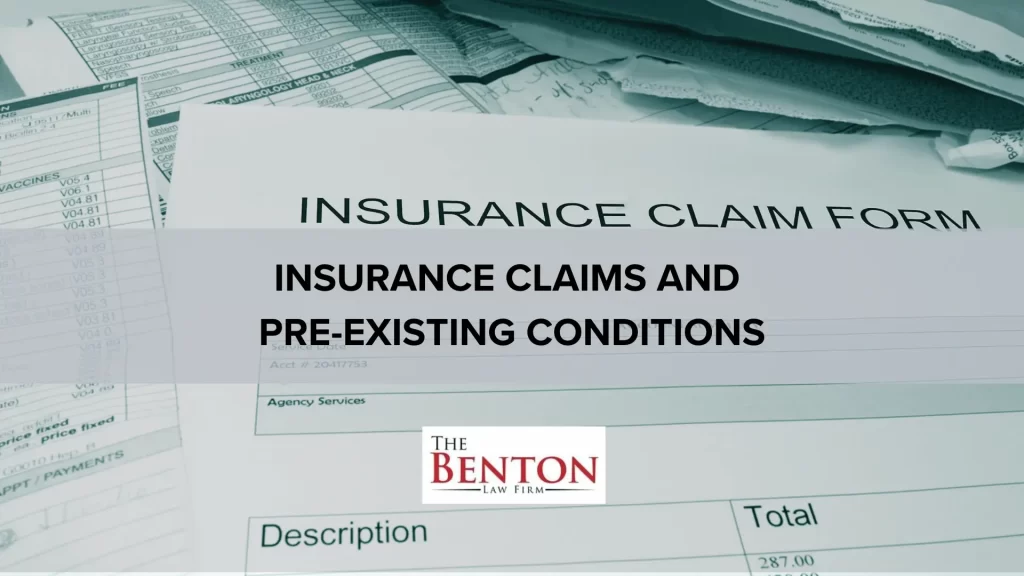 Individuals with pre-existing medical conditions know how complicated it can be to get medical insurance to pay for their much-needed care and treatment. What about car insurance companies? If you are involved in an accident, does having a pre-existing condition mean an insurance company can deny your compensation claim?
Dealing with the aftermath of a significant accident is challenging enough. If you have a pre-existing condition, you may be worried about seeking compensation for your injuries from an insurance company. You may have a pre-existing condition, but you also have legal rights. At The Benton Law Firm, we appreciate your concerns and want to help you understand what compensation you may be entitled to pursue after an accident.
What Is a Pre-Existing Condition?
A pre-existing condition is a medical issue or problem you dealt with before being involved in an accident. A pre-existing condition like asthma may not significantly impact an insurance claim following an accident with a careless individual. However, some pre-existing conditions become worse after a collision or significant accident. These conditions can include:
In addition to physical ailments, mental health conditions can also worsen after an accident, especially anxiety, depression, and post-traumatic stress disorder.
How Does Texas Protect People Who Have Pre-Existing Conditions?
Texas protects individuals with pre-existing conditions by subscribing to the Eggshell Skull Doctrine. This doctrine states that a pre-existing condition cannot be used against an individual when filing a claim or lawsuit. The party legally responsible for causing the accident is also responsible for paying a victim's financial losses related to that accident. It does not matter how "fragile or frail" an individual was at the time of the accident.
In Texas, you are protected under the Eggshell Skull Doctrine if your pre-existing condition was stable at the time of the accident and was made worse because of the accident. Medical documentation is crucial in these types of claims because you need to establish the stability of your condition before the accident and show how your condition worsened as a direct result of the incident.
Read more: 5 Tips for Talking to Your Doctor About Your Car Accident Injuries
Can Insurance Claims Be Denied for Pre-Existing Conditions?
Technically, no. An insurance company cannot flat-out deny a person's claim because they have been previously diagnosed with a physical or mental health condition. However, there are tactics an insurance company can use to skirt paying fair compensation to injured individuals.
Texas follows what is known as a modified comparative negligence model. After an accident, a person can go to court to seek compensation for their injuries. There, a jury evaluates the total amount of the financial losses and what percentage of the fault belongs to each party. If an accident victim is 15% to blame for causing an accident, their compensation is reduced by 15%. But if an individual is more than 50 percent at fault for causing an accident, they cannot recover compensation for their injuries.
This rule is only binding on court decisions. However, it can also influence how an insurance adjuster values a claim. Attempting to place more of the blame on your shoulders lets an insurer offer you less than what your claim is worth.
Read more: How to Measure Shared Fault After a Car Accident
What Compensation Is Available If Your Pre-Existing Conditions Are Made Worse By An Accident?
If an accident causes new injuries or exacerbates pre-existing medical conditions, you may be able to pursue valuable compensation for your financial losses and medical expenses. Although the exact value of your claim depends on the specifics of your unique situation, in general, you may seek money for the following:
Disability or disfigurement
Emotional distress
Before you accept money from an insurance provider, discuss your situation with a knowledgeable Dallas personal injury attorney. Insurance companies are for-profit businesses designed to maximize profit and minimize payouts. They may use tactics designed to catch you off guard or make you feel like you should accept a speedy settlement because that's the best offer you'll get. Without a thorough understanding of your rights and the Eggshell Skull Doctrine, you may not be able to recover the maximum compensation you deserve. Let an attorney walk you through the process and fight the insurance company for the money you need.
Contact Us for a Free Consultation with A Skilled Personal Injury Attorney
Did a careless individual cause an accident that made your pre-existing worse? Discuss your unique situation with the compassionate team at The Benton Law Firm today. Our legal team specializes in car accident cases, including related insurance claims, and is committed to helping you seek fair compensation for your injuries.
Call our Dallas office today at (214) 777-7777 for a free consultation.
Read more: